UC Undergraduate Experience Survey (UCUES)
The 2022 University of California Undergraduate Experience Survey (UCUES) is currently underway. UCUES is an official UC survey. It is an opportunity for you to provide honest and confidential feedback about your UCSB experience. It is important that as many of our students complete this survey as possible, because it has the potential to provide valuable feedback to improve our campus.
To participate, please click here: http://ucal.us/ucuesucsb
"DID YOU KNOW? 83% of UC Santa Barbara undergraduates are satisfied with their Academic Experience – among the most highly rated of all the UC campuses. [Spring 2020 UCUES]"
WHAT IS UCUES?
The University of California Undergraduate Experience Survey (UCUES) is an online survey administered every other Spring quarter at UC Santa Barbara and each of the other undergraduate UC campuses. This survey is a unique tool for better understanding the academic and co-curricular experiences of undergraduates at UC Santa Barbara.
WHAT IS THE SURVEY ABOUT?
The survey asks about being a student at UC Santa Barbara: your academic work, access to classes, your interactions with faculty and peers, and your satisfaction with different aspects of your college experience.
CURRENT PARTICIPATION RATES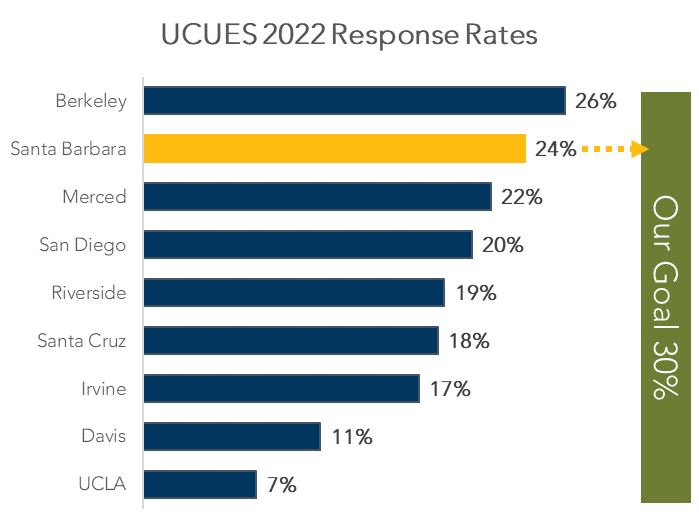 Date: June 6th, 2022
WHO PARTICIPATES?
Join over 60,000 undergraduates across the UC system in participating this year. Over 50,000 UC Santa Barbara students have participated in UCUES since 2008.
AN APPLE-A-DAY PRIZE WEEK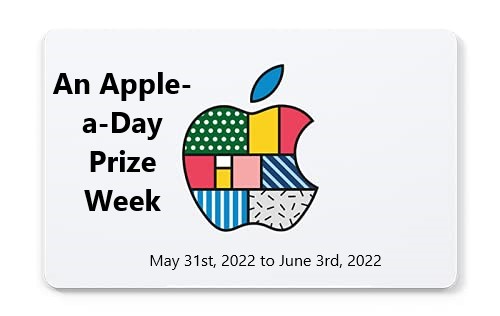 We are holding An Apple-a-Day Prize Week on May 31st, 2022 to June 3rd, 2022. During this week, three $75 Apple Gift Cards* will be raffled each day to undergraduates who complete or have completed the UCUES. The sooner you complete the survey, the higher chance you have of winning.
*Apple is not a participant in or sponsor of this promotion.
2022 Apple-a-Day Prize Week Winners
Prize Winner Names

| | |
| --- | --- |
| Rylee H. | Jacob B. |
| Skylar M. | Hespos G. |
| Alli S. | Isabelle B. |
| Natasha H. | Wei F. |
| Mackenzie S. | Joshua W. |
| Daric Z. | Elise H. |
| Diana G. | |
WHAT ARE THE PRIZES?
The survey will be open throughout the remainder of Spring Quarter, and daily drawings (Monday through Friday only) for $50 Amazon.com Gift Cards* will be done starting April 4th, 2022 until June 10th, 2022. In addition, if you complete the survey by June 10th, 2022 you will automatically be entered into the drawings for two grand prizes of Apple AirPods Pro.
2022 RAFFLE WINNERS
Raffle Winner Names

| | | |
| --- | --- | --- |
| Meg C. | Katie Y. | Natalia A. |
| Marko A. | Jessica G. | Melody T. |
| Adrian C. | Sofia T. | Abigail V. |
| Maria D. | Lindsay B. | Angela Z. |
| Marco M. | Phoebe G. | Luna M. |
| Yun Z. | Ulises A. | Yassine C. |
| Anna L. | Jane X. | Isaac M. |
| Steven S. | Julia T. | Eaman T. |
| Kira P. | Robert Z. | Mina B. |
| Juan M. | Emily C. | Emily X. |
| Emily M. | Nhi P. | Madison T. |
| Thu N. | Vincent L. | Jiuxu S. |
| Phuc L. | Vivian L. | Nazar R. |
| Lauren B. | Kerly P. | Rai A. |
| Tony K. | Kyle F. | Landry G. |
| Jim S. | Simren B. | Max L. (Apple AirPods Pro) |
| Jackeline H. (Apple AirPods Pro) | | |
2022 AS FOOD BANK CAMPAIGN
The Division of Student Affairs agreed to donate $1.00 to the AS Food Bank for each UCUES submitted between April 18–29. During this campaign, UCUES participants helped raise $765! We thank the participants and the Division of Student Affairs for supporting this effort.
FOR MORE INFORMATION
A description of the survey methodology and how the data is used can be found at the UC Office of the President (UCOP) UCUES website.
UC Santa Barbara's results from the last UCUES survey can be found here.
If you have questions or problems logging in, contact: Nancy Carrada Zuñiga at nancy_carradazuniga@ucsb.edu.
*Amazon.com is not a sponsor of this promotion. Except as required by law, Amazon.com Gift Cards ("GCs") cannot be transferred for value or redeemed for cash. GCs may be used only for purchases of eligible goods on Amazon.com or certain of its affiliated websites. For complete terms and conditions, see www.amazon.com/gc-legal. GCs are issued by ACI Gift Cards, Inc., a Washington corporation. All Amazon ®, ™ & © are IP of Amazon.com, Inc. or its affiliates. There is no expiration date or service fee.